Dry brushing has quickly caught on as a health trend with quite a few benefits. You've likely heard of dry brushing, but what does it do? How does running a dry brush across your skin achieve these fantastic results? Let's discuss the benefits of dry brushing and if it's right for you to do at home.
You may be interested to know dry brushing has been around since the ancient Egyptians who used a dry brush to reduce signs of aging and improve skin texture. Thousands of years later, dry brushing has returned with more than just anti-aging benefits, but a plethora of healthy pay-offs!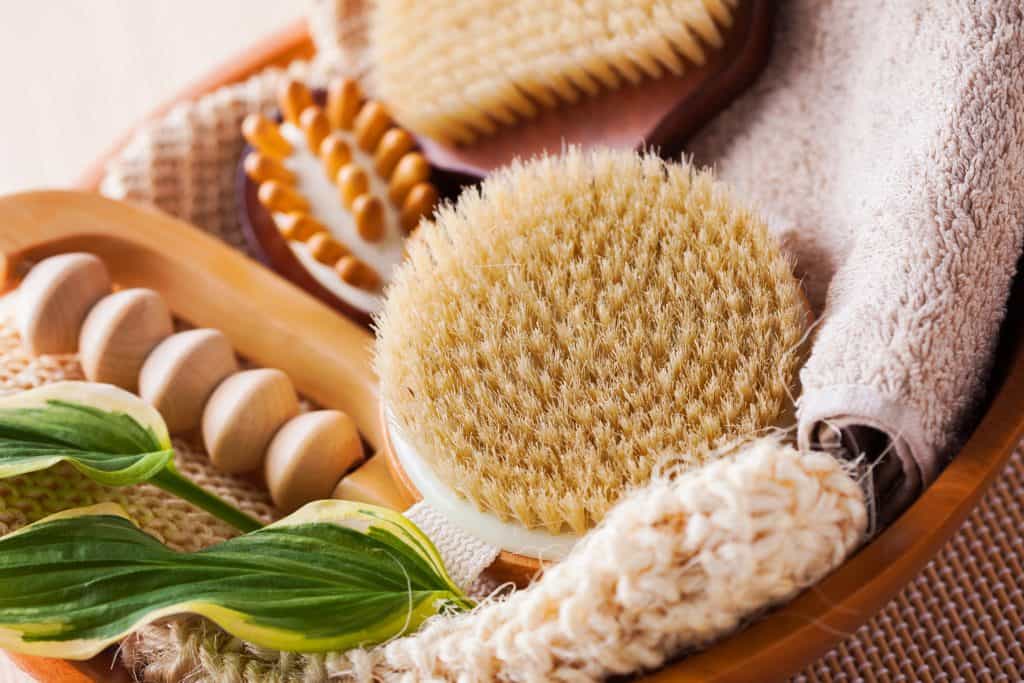 What is Dry Brushing
Dry brushing is using a naturally bristled brush to massage the body. The trend started in ancient Egypt. Then a form of dry brushing was used in Ayurvedic medicine (the Indian science of life and health) where dry brushing took off. Soon after, it became a staple in French spas who touted the benefits of the practice. Now, dry brushing is found in a multitude of cultures across the globe.
Benefits of Dry Brushing
The benefits of dry brushing range from holistic beauty to detoxification and lymphatic drainage. Not to mention, it's a great self-care practice. Here are the top benefits of dry brushing.
Skin Exfoliation
Dry brushing is great for detoxifying your skin through exfoliation. Dry brushing allows you to exfoliate even the smallest pores, leaving your skin feeling smooth and clean. Using a natural, firm, dry brush over your skin will provide an immediate difference. The dry brush removes dirt, oil, and toxins that can build up in your pores, leaving your skin bright and clean. People notice softer skin when consistently dry brushing.
Detoxification and Lymphatic Support
The lymphatic system runs all through the body under the surface of the skin. It's responsible for maintaining your immune system, removing cellular waste, maintaining body fluid levels, and absorbing nutrients from the digestive tract. This lymphatic system comprises lymph nodes, vessels, and tissue that move lymph through your circulatory system and to your heart.
Dry brushing naturally stimulates the flow of lymph through the body. It promotes efficient lymphatic drainage, detoxification, and circulation. This means boosting your immune system, cell health, and digestion – all from dry brushing regularly!
Hormone Balance
Like most things in the body, the lymphatic system can highly affect your hormones. If your lymphatic system isn't draining properly, vital hormones can get stuck where they don't belong, causing you to feel off balance. Since dry brushing supports lymphatic drainage, it also promotes healthy hormone circulation. Dry brushing is sometimes suggested to couples looking to conceive for this reason.
Cellulite Reduction
Even though there isn't much scientific evidence around reducing cellulite through dry brushing, there are plenty of anecdotal claims that dry brushing can lessen cellulite's look and feel. Dry brushing does make skin softer while encouraging cell turn-over.
Relaxation and Self-Care
As if the benefits above aren't enough, dry brushing is an excellent opportunity to practice self-care and relaxation. Taking time out of your day to dry brush your skin can leave you feeling grounded, relaxed, and healthy.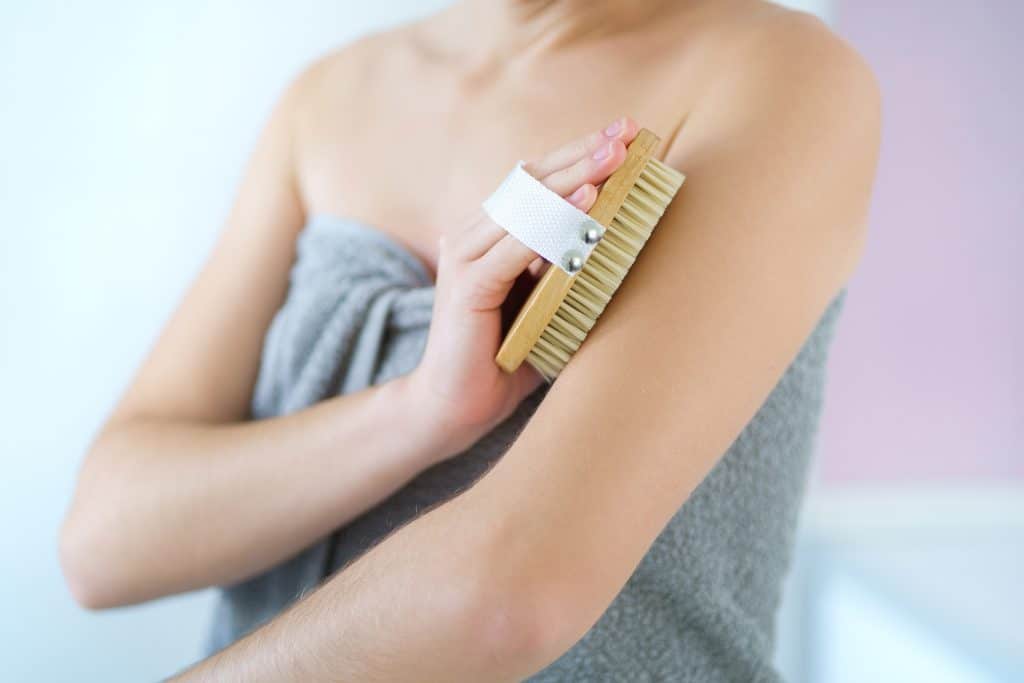 This post may contain affiliate links. Please see my full disclosure policy for details.
How to Dry Brush
Dry brush in the shower so the dead skin you will be exfoliating can just fall onto your shower floor.
1. Find the Right Brush
Use a brush with natural bristles (avoid synthetic bristles) and a long handle to reach every part of your body. A stiff-bristled brush works best, but don't be afraid to start with softer bristles and work your way up to a firmer, stiffer brush with time.
The Organic Pharmacy is a vegan dry brush and comes with a detachable handle (so you can use in your hand as well as using the long handle for harder to reach places). This is made in London and never tested on animals.
Additionally, Rosena is a boar bristle dry brush with a detachable head that is made in China.
You can find the brushes I recommend in my Health & Wellness section in Amazon Storefront.
2. Start From the Bottom
Begin brushing at the bottom of the feet and slowly move up the legs in long strokes. Stroking each section of skin at least eight to ten times is recommended. Always brush towards the heart/chest area where the lymphatic system drains.
Important Note: You should use light pressure, if you use too much pressure you will not gain the benefits of dry brushing especially the lymphatic drainage. Dry brushing should never hurt if it does lighten up the pressure.
3. Brush Palms and Arms
Move from the legs and feet to the palms and arms. Start brushing the palms of the hands and move up to the arms, making sure to brush towards the heart.
4. Brush Abdomen and Back
Next, brush your abdomen and chest in a gentle clockwise motion. Then, do the same thing on your back. Remember to go over each section of your skin multiple times for the best results.
5. Brush Your Neck and Chest
Finally, move onto your neck and chest. Instead of brushing upward, brush down towards the heart with long, gentle strokes. Remember to be extra careful since your skin is much more delicate in this area.
6. Aftercare
Once you've finished brushing, you can shower as usual. Make sure to drink plenty of filtered water after to keep your circulation moving!
I also like to jump on my rebounder after dry brushing to get things moving along, since rebounding helps with your lymph and detox pathways, as well. This is the rebounder I have and love! It is made in the USA and is free of harmful toxins (and is good for those with chemical sensitivities).
Don't forget to brush and moisturize your skin daily for the best results.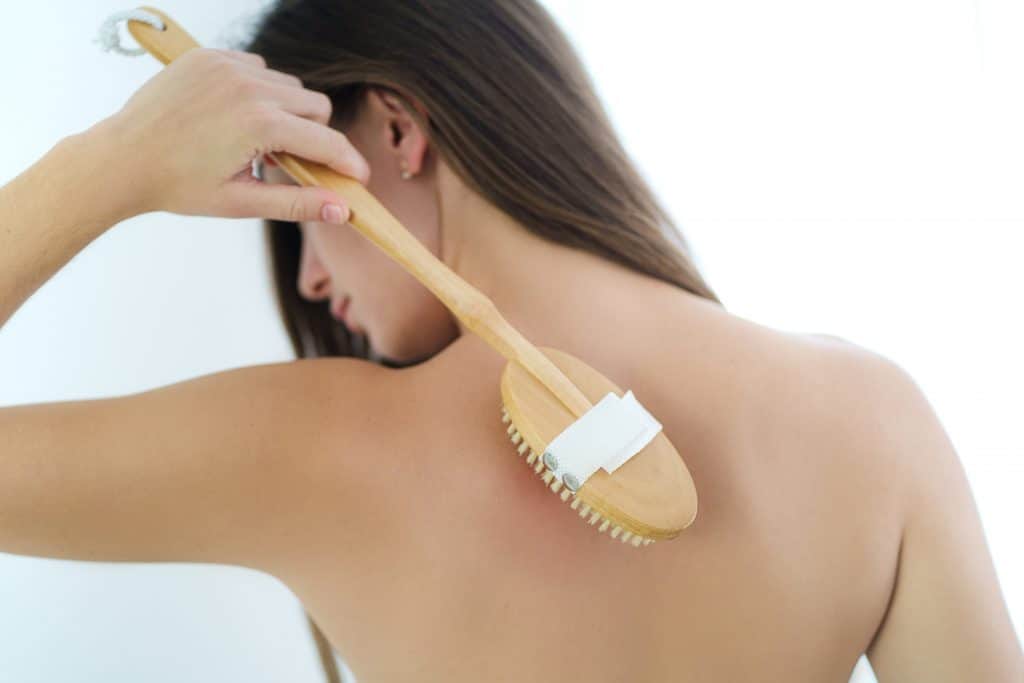 Maintaining Your Dry Brush
You should thoroughly rinse your dry brush after every use. Allow it to dry completely before storing it to reduce mildew and bacteria build-up.
I recommend you wash your brush with warm water and non-toxic soap once a week to keep it sanitary. Finally, don't share your brush with anyone to prevent infection.
Is Dry Brushing for Everyone?
Everyone is different, and different skin types may react differently to dry brushing. If you have exceptionally sensitive skin or a skin condition like psoriasis, speak to your doctor before dry brushing.
Dry brushing is not recommended over varicose veins or open wounds. Other than that, there is no significant risk of dry brushing.
Trying it is generally risk-free, and you may discover a love for the practice.
Final Thoughts
I've personally seen health benefits from dry brushing and enjoy taking a bit of time out of my day for self care. The range of health benefits can not be overlooked and it is relatively simple (and inexpensive).
I would love to hear the benefits you have noticed from dry brushing!
I know it can be overwhelming to find truly safe products. For that reason, I have created my Amazon Storefront for vetted non-toxic products – check it out!
---
This post has been medically reviewed by Jen Aerts, a board-certified nurse coach and an Integrative Health Coach. This is not considered medical advice, and you should consult with your medical providers.
---
---
Pin it for later!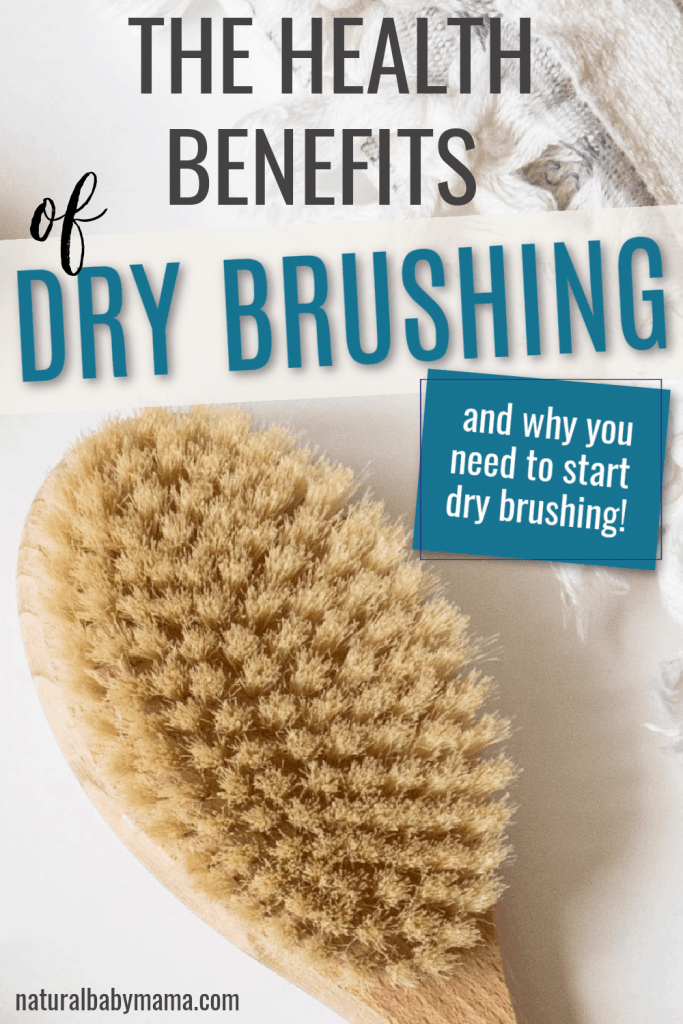 Sources:
https://my.clevelandclinic.org/health/articles/21199-lymphatic-system
https://health.clevelandclinic.org/the-truth-about-dry-brushing-and-what-it-does-for-you/#:~:text=The%20mechanical%20action%20of%20dry,make%20you%20feel%20invigorated%20afterward.